5 Takeaways from PwC's Global Consumer Insights Survey 2018
[ad_1]

Success in retail business depends a lot on how well a merchant can create personalized shopping experiences. In this regard, accurate segmentation and handy technologies are key to providing relevant value propositions to different customer groups in a web-store, be it on Magento 2, WooCommerce, or any other platform.
To stay relevant and competitive, merchants should acknowledge trends in customer behavior so as to timely improve their targeting strategy. A recent Global Consumer Insights Survey by PwC revealed some interesting changes in customers' shopping preferences.
For those who are short on time to read a full report (though we highly recommend it), we came up with 5 important takeaways that can influence e-commerce customer segmentation in 2018.
1. Customers seek experience
PwC asked consumers about their spending on experience and products and got the following results: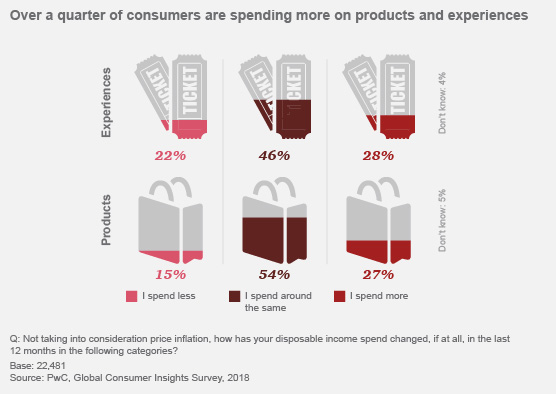 Over the past 12 months, 28% spent more money on experiences and 27% increased their spending on products. 46% of respondents said that they spent the same amount of money on experiences and 54% of them neither increased nor decreased spending on products.
Overall, PwC found out that people become more confident about their ability to afford extra products and experiences and plan to increase their purchases in the future. This is definitely a positive sign for merchants. At the same time, customers begin to value experience more and savvy retailers can exploit this trend. How?
Merchants can create stories and offer not just particular products but entire stories instead. For example, the Spearmint Love succeeded with it when they created a photo-story showcasing a complete outfit instead of featuring just a photo of a shirt or shoes. Mothers, their target customers, came back to the web-store and bought everything that was in the picture. That sounds promising, doesn't it?
2. Customers go mobile but still value physical experience
PwC analyzed changes in the preferences for buying channels from 2013 to 2018. Though with a decline in 2014-2015, physical shopping is now gaining popularity. Customers consider shopping a pleasant sensory and social experience rather than just a reasonable act of buying something they need. At the same time, shopping via PC declined from 27% to 20%, tablet buying rose slightly, from 8% to 12%, and mobile-based buying more than doubled, from 7% to 17%. In the report, PwC predicts that the mobile channel will soon surpass personal computers.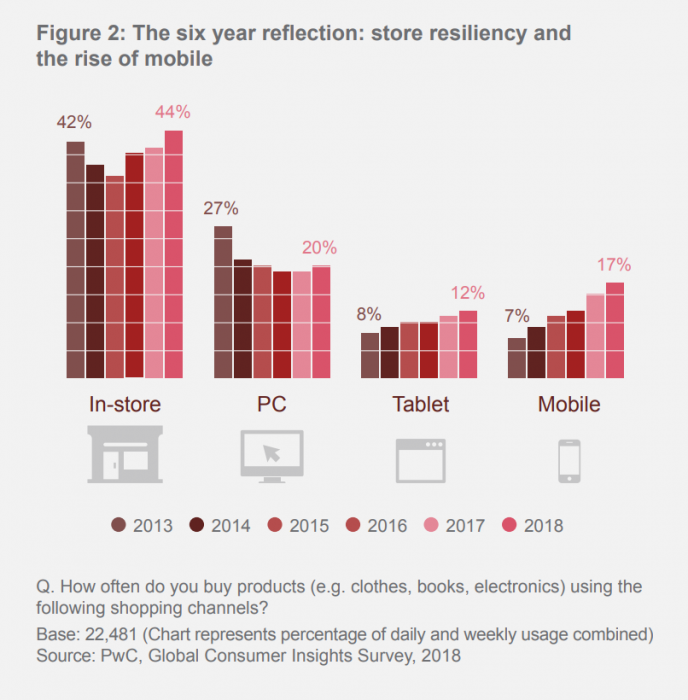 Taking into account these shifts, merchants can start paying more attention to customers' preferred communication channels and adjust their online activity accordingly. So, retailers can test their web-store and marketing emails once again to make sure they are equally convenient for browsing on mobile devices and PCs. They should consider the size and UI of messages and pages as well as users' average connection speed and viewing environment to deliver an optimal shopping experience via both channels.
3. Customers prefer trusted brands and their trust depends on SNs
PwC states that trust in the brand is the third factor after price and stock availability that influences customers' purchase decisions. However, even though trust matters a lot, customers rely more on other people's opinions than on branded messages. 37% of respondents named social networks as the source that motivates them to buy particular products. At the same time, individual retailer websites and price comparison websites ranked second and third, while emails from brands per se got only 14% of votes.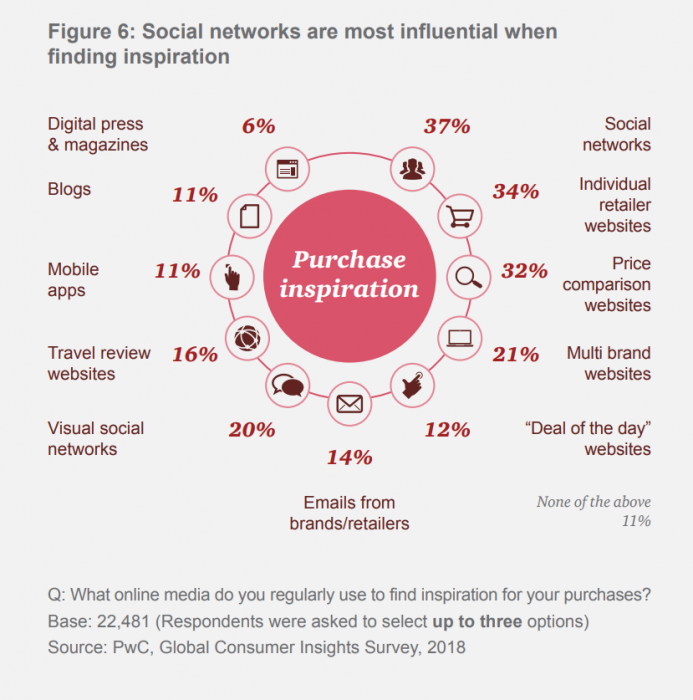 This means that opinions on social media, which are beyond merchants' control (unlike ads and promos), considerably influence customers' purchase decisions. While retailers start communicating with customers via SNs, they should keep in mind that shoppers trust social media only when they feel the authenticity of opinions.
Putting consumers' interests first is the only winning strategy in this regard. For example, the Patagonia brand did it perfectly by showing their eco-friendly and family-oriented values through marketing campaigns on social media.
So, analyzing core values of customers, participating in or even creating social communities around relevant topics will help retailers build trust and brand awareness much better than branded emails or ads on websites.
4. Customers want relevance and disapprove of spying
PwC found out that 40% of customers are fine with retailers tracking their data, shopping patterns, and purchase history. Even more, customers expect that merchants will use this information to deliver relevant offerings. Yet, the study also says that customers feel less comfortable when retailers track their location as well. Only 34% agreed that they don't object to retailers knowing their physical locations and communicating with them via mobile when they pass by.
So, while geolocation may seem an excessive measure for some customers, merchants can concentrate on psychographics-based segmentation that includes personality traits, values, opinions, interests and so on. The golden rule is to get to know customers but not surveil them.
5. Customers are ready to pay for fast delivery
Good news for delivery partners. The Global Consumer Insights Survey shows that more than 40% of online customers will pay more for same-day delivery and 24% of respondents will accept an extra charge for getting their order within one or two hours.
Also, PwC discovered that customers over 65 prefer a delivery at a specific time slot.
So, our takeaway is to reconsider delivery as a service and offer more convenient delivery time options for customers to choose. Customers understand that fast shipping requires extra logistics effort and will accept higher prices for that.
Conclusion
Penetration of technologies in people's lives, for sure influences customers' preferences and shopping habits. Customers begin to value experience more than tangible products. They appreciate their time more than ever and thus are ready to pay extra for a quick delivery and provide their data to get relevant offerings.
Though the wisdom of the crowd stays as important as it was dozens of years ago, it has also undergone a digital transformation. Today customers go to social networks to check what other people think of particular brands and products. This way, SNs offer merchants an opportunity to add a human touch to their communication with customers and build trust in their brand.
A stable popularity of brick-and-mortar shops shows that digital shopping channels can only complement a pleasant physical experience that customers get in stores but can't replace them completely.
To sum it up, only the merchants that are ready to adapt to shifts in customer behavior and focus on customers' experience will survive in a competitive environment.
The post 5 Takeaways from PwC's Global Consumer Insights Survey 2018 appeared first on Home Business Magazine.
[ad_2]

Source link