Build Your Craft Business with Crafter's Market 2016
[ad_1]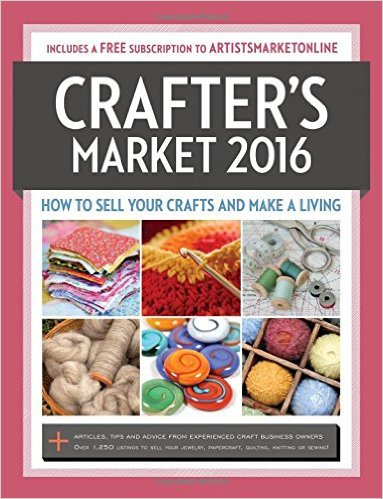 Crafter's Market 2016 is the single resource to make your craft your career!
The guide is for craft artists who:
*Are looking to start or grow a craft business
*Need advice on how to promote their business and locations to sell their products
*Are seeking insight & tips on business-related subjects such as branding, packaging, social media, publishing and copyright
Turn a crafting passion into a business with the second edition of Crafter's Market. Whether launching your at home crafting business, revamping your brand, or planning events to promote your products, this book will take your business to the next level. Both a starting point and a research tool, this guide is the go-to resource for turning a love for crafting into a career.
Editor Kerry Bogert, author of Totally Twisted and Rustic Wrappings and knitting, crochet and jewelry acquisitions editor for Interweave, will help you start or expand your business with completely updated resources, such as:
More than 400 new listings for complete, up-to-date contacts and guidelines for submissions for a total of more than 1,400 craft market resources, including craft shows, magazines, book publishers, online marketplaces and more!
Markets for a variety of crafts, including quilting, sewing, knitting, crochet, papercraft and jewelry making.
Informative, inspirational articles on hosting creative retreats, managing your time on the internet, growing your business through Pinterest, how to handle custom orders and setting up and utilizing e-Newsletters.
Interview with successful craft professional Carter Seibels Singh on establishing her successful small business, Woman Shops World, on Etsy.
A bulk of this 352 page book is filled with listings—names, contact information, company descriptions, submission guidelines and more—from companies and events that provide avenues for building and growing a craft business.
Whether you're looking to expand your online presence or you're just beginning to think about how to turn your weekend hobby into a side business, Crafter's Market 2016 is the complete resource for crafting professionals.
[ad_2]

Source link