Pensionless: The 10-Step Solution for a Stress-Free Retirement
[ad_1]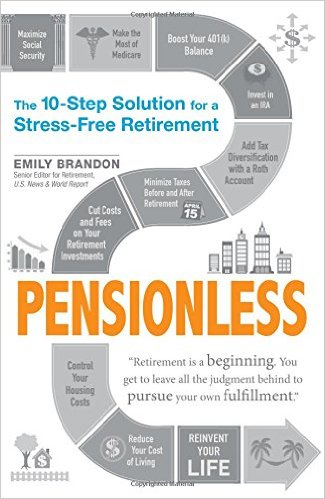 Millions of Americans do not have a pension plan, and their retirement years are starting to seem like a huge financial question mark. Pensionless: The 10-Step Solution for a Stress-Free Retirement (April 18, 2016, Adams Media) by U.S. News Senior Editor for Retirement Emily Brandon alerts readers to the retirement benefits available to them. Emily thoroughly explains how those planning to retire can tweak their lifestyles now so that they can live well into retirement, without the security of a pension.
Featuring an analysis of the significant changes made to Social Security in the recent federal budget, Pensionless will help those planning for a comfortable financial future enjoy the retirement years they have worked for their whole lives.
Praise for the book:
"Emily Brandon is one of our nation's top personal finance experts. Pensionless is a simply fantastic retirement survival guide, which virtually all of us desperately need.  Do read it – at least TWICE!"—Laurence Kotlikoff, an economics professor at Boston University and co-author of Get What's Yours: The Secrets to Maxing Out Your Social Security
"Brandon delivers clear, no-nonsense guidance on how to prepare for retirement. Pensionless is a comprehensive and valuable resource for all." —Alicia Munnell, director of the Center for Retirement Research at Boston College and co-author of Falling Short: The Coming Retirement Crisis and What to Do About It
"Emily Brandon's new book is a no-nonsense and crystal clear road map to accompany us on the path to successful retirement. All boomers – and their offspring – will benefit from learning more about the choices ahead." —Olivia Mitchell, an insurance and risk management professor at the University of Pennsylvania's Wharton School and Executive Director of the Pension Research Council
"Emily Brandon's book, Pensionless, is an excellent, no-nonsense guide to intelligent retirement planning. Emily cuts to the chase and provides readers with ten simple steps everyone can take to insure a secure and stress-free retirement. I highly recommend this very practical book."
—Dan Solin, author of the Smartest series of investing books including The Smartest Retirement Book You'll Ever Read
"From diversifying to downsizing, Brandon's smart, savvy guide breaks through the information overload of retirement planning, and sets up the reader to get the most out of life's next chapter."—Beth Kobliner, author of Get a Financial Life: Personal Finance In Your Twenties and Thirties
In the book Emily teaches readers how to:
Avoid surcharges on Medicare benefits
Increase Social Security and employer-sponsored benefits to help pay for retirement
How to get more Social Security by claiming benefits twice
Minimize fees and avoid penalties on retirement accounts
How to inflate 401(k) balances.
More About the Author:
Emily Brandon (Menlo Park, CA) is a senior editor, retirement columnist, and blogger at U.S. News & World Report. Her articles have been featured in Consumer Reports and the Washington Post Express, and she has appeared on numerous media outlets, including Nightly Business Report and MSNBC News. You can follow here on twitter @aiming2retire.
The post Pensionless: The 10-Step Solution for a Stress-Free Retirement appeared first on Home Business Magazine.
[ad_2]

Source link