What Marketers Can Learn from Festivals Like Coachella and Bonnaroo
[ad_1]

Summer is starting to heat up, which means that all around the nation music festivals are doing the same. While almost everyone has heard of the biggest festivals, like Coachella and Bonnaroo, which can draw over 100,000 people, other big festivals, including Pitchfork, Lollapalooza, and the Governor's Ball all draw tens of thousands of people.
Contrary to popular belief, not all of these big music festivals started small. Bonnaroo's inaugural year was one of its best-attended years, with roughly 70,000 people split between just a handful of stages. That's 70,000 interested individuals, who'll be the subject of all the festival's targeted marketing year-round will be exposed to almost every brand that partners with these festivals. As new technologies make marketing ever-more competitive, taking a closer look at the marketing strategies of these festivals can yield some interesting insights for anyone interested in marketing overall, whether you're a solo entrepreneur trying to net your first sales or a savvy senior social media marketer.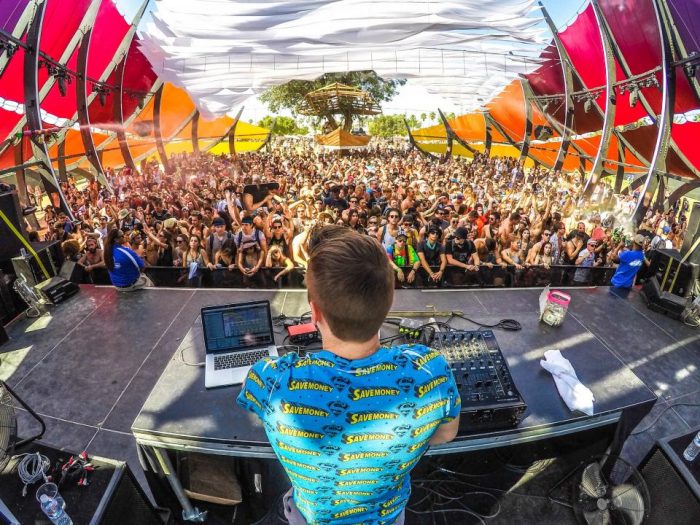 Know Your Audience, And Then Engage Them
Most big music festivals have a selling point that exists well beyond the music, whatever genre it's selling: an extraordinary experience. Bonnaroo again provides a great example, and almost all of their marketing implicitly (and sometimes explicitly) refers to the festival as a place beyond everyday reality. While your own brand might not be able to afford a half-dozen major headlining bands to transport your customers to another zone, a quick look at some of the marketing which happens within music festivals is pretty revealing.
Even sometimes-stodgy traditional brands turn out all the tricks to stand out at music festivals. Lacoste, for example, sponsors a booth at Coachella where revelers could make their own flower crowns in return for a social share. Samsung would offer free henna tattoos, with festival-goers encouraged to browse designs on Samsung products while waiting in-line. Even Gap holds sweepstakes for festival tickets, and sets up boho fashion stations.
These are brands that know their audience, but they went above and beyond just designing some hippie-styled logos to slap into convenient areas: they took the time and effort to engage the captive audience at the festival and created positive experiences around the brand. Think to yourself about how you can create a wow moment for people who interact with your brand. If you make a positive enough experience that even those individuals who might not be immediately actionable customers want to talk about it, your wow moment is creating reach and depth that straightforward traditional marketing will never be able to replicate.
Don't Limit Your Brand To The Brand
Red Bull is an energy drink company and if they'd stuck to just energy drinks, they'd probably had been consigned to the realm of last-decade's brands that nobody talks about anymore. But Red Bull didn't stick to just their niche. They did a massive amount of customer research and found that a massive segment of their market was into music. Not just any music, but edgy, trending music. So what did Red Bull do?
They started sponsored giveaways and sweepstakes for free music festival tickets. They started a pretty avant-garde music blog to cover not just new bands, but the music festivals their customers loved. Before long, they were sponsoring the festivals, specific stages and bands, and hustling to become the energy-drink of various music festivals.
No matter what your brand, product, or business is, there are undoubtedly factors which unite your audience. Factors which have nothing to do with your product or business. If you want to take your marketing to the next level, you need to let your brand out of its box and build engagements around the things which unite your audience even if those things are beyond the usual scope of your brand.
You Can't Be Halfhearted
Many music festival attendees are pro-authenticity, but that's a trait shared by more and more consumers, who have gotten wiser and better-educated than ever. If you're going to do something different and (hopefully) powerful, you can't risk being half-hearted about it. Instead, make certain that your engagement-geared marketing and the wow moments you try to build are also ones that you and your team can be passionate about. If it's interesting enough that you can love it, other people will, too.
Glad is a plastic goods company that primarily sells housewares, but for the massive South by Southwest festival, they set up dozens of major recycling, compost, and trash stations. But they didn't stop there: they partnered with Keep America Beautiful to hire artists to use a lot of that trash and recycling to make art in front of audiences and anyone passing by, which was later sold to benefit charity. In one fell swoop, they got brand exposure, created not just an experience but something useful for their target market, and all to benefit a larger cause that many of that same audience could get behind.
---
---
The post What Marketers Can Learn from Festivals Like Coachella and Bonnaroo appeared first on Home Business Magazine.
[ad_2]

Source link